Plise are becoming increasingly popular element of the interior shading. They can easily overshadow atypical shapes of windows, which other systems can handle hardly, or not at all. Mention, for example - triangular windows, pentagonal, hexagonal, trapezoid, oblique, semi-circular, circular, etc. Our range of plise made by the Austrian manufacturer LEHA belong among the European elite.
Product quality demonstrates five-year warranty on mechanism and color retention. Plise are tailor-made according to your specifications or to the measurement of our technician. The price of plise depends on the dimensions (width, height), selected materials and the type of operation (chain, handle, motor).

Plise are usually mounted directly on the window wing or door, this allowing full use without pulling up the system as for example in fabric blinds. We offer profiles in 18 different colors at no extra charge. The operation is very simple, mostly we supply plise controlled manually by pulling the handle or motor remote control. Another solution may be a control chain, cord, crank or battery control rod.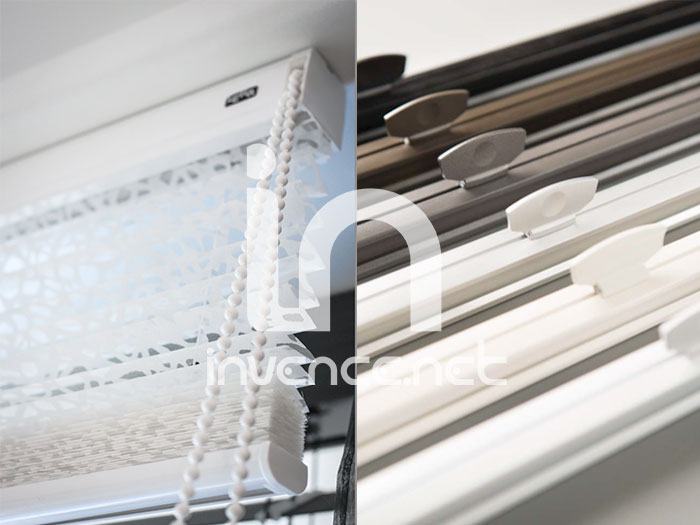 If for any reason you do not want or can not drill into the glazing bar, we offer a special version of pleated blinds-STICK & CLICK, which enables easy installation directly on the glass with the help of double-sided tape. When washing windows simply unclip holders of plise. This method of mounting is suitable for the tilting window to the maximum angle of tilt of 15 °.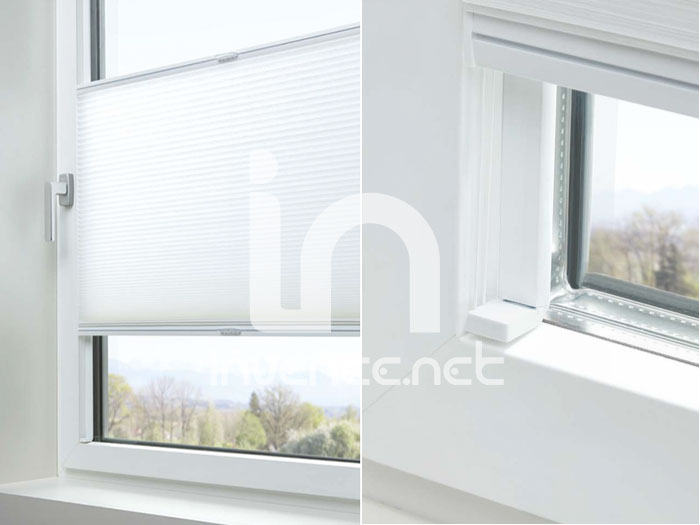 A huge selection of fabrics with different light transmittance, from curtain-like fabric to fully darkening, plise is perfect, variable and mainly functional product suitable for flat, office or winter garden.
Another advantage is the ability to install any combination of two substances windows for day and night use - pleated blinds DAY&NIGHT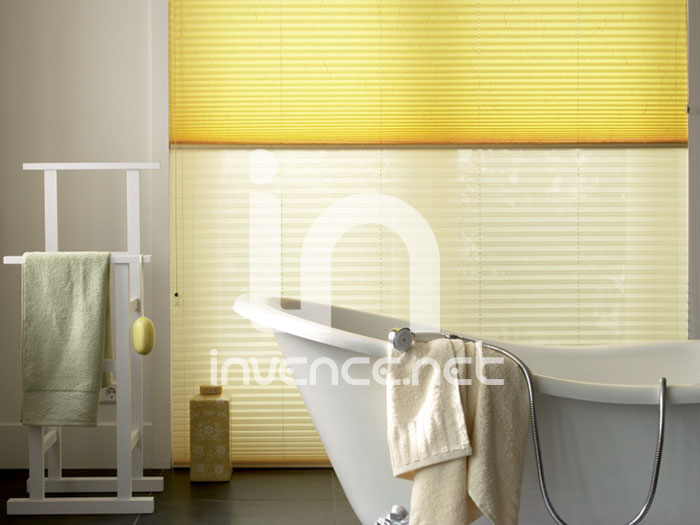 One substance with high penetration works through the day as curtain and decoration. Substance with low penetration can overshadow or completely obscure the interior. Plise can be left in any position on the window, which can achieve accurate coverage curious glances or street lamps. Of course production is tailored to each window, either according to the specialization of our technicians or according to your specifications.
See our substances swatch here.
Advantages and opportunities of plise:
Plise are custom made

we provide professional measurement and assembling of products

Plise can be seen in our showroom

We offer more than 500 different kinds of substances

Plise can be mounted into the glazing bar, on the window frame, front wall, a ceiling

possibility of delivery of the finished product according to your specifications (custom installation)

Plise are suitable for atypical windows - polygons, segments of circles, etc.

Plise mounted into the glazing beads will not affect the handling of a window or door (opening..)

Plise are operated by pulling the profile, cord, chain, engine (key, remote control), the control rod

profiles are made of aluminum - lacquered

possibility of two substances in each window - day and night

easy installation and removal (ie. washing windows), operation and maintenance

Plise maximum size up to 440 x 300 cm

5-year warranty
More in czech language: Kvalitní plisé žaluzie