Curtain and curtain rails and trolleys
Curtains and drapes belong to widely-used supplement. They complement and significantly influence the overall interior design. Therefore curtain rails or trolleys are constantly developed and upgraded. Curtain and curtain rails are tailor-made according to your specifications or professional measurement of our technicians. Price depends on size, finishes and type of control (manual,motor).
We offer modern rails for curtains and draperies from leading manufacturers. These companies have produced for many years good and above all very functional curtain rails. Curtain are are produced in many types with different modes of operation, including the motor. They are made of aluminum and can be mounted to the ceiling and on the wall using mounting brackets. We know how to bend it into any shape using the template or after defined curves. We offer many color options. Of system solutions we would like to draw your attention to concealed variant or more groove  curtain rails.
ZENIT 466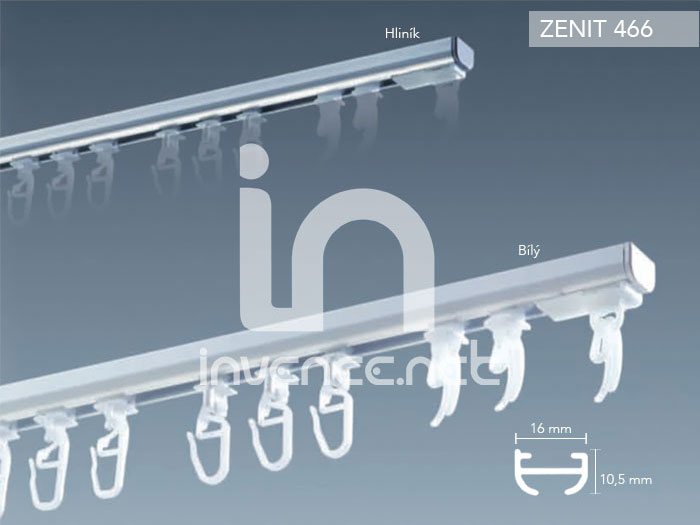 Aluminum wire with rounded shape for light curtains (max.5 kg)
Colours: white, natural anodized aluminum or surcharge any color according to RAL color chart
Possibility of bending (the minimum bending radius 7cm)
Ceiling mounting
Single and double groove design
Price includes standard drivers: 443 Kč / m (excluding VAT)
Delivery date: 5-10 working days
TOP 455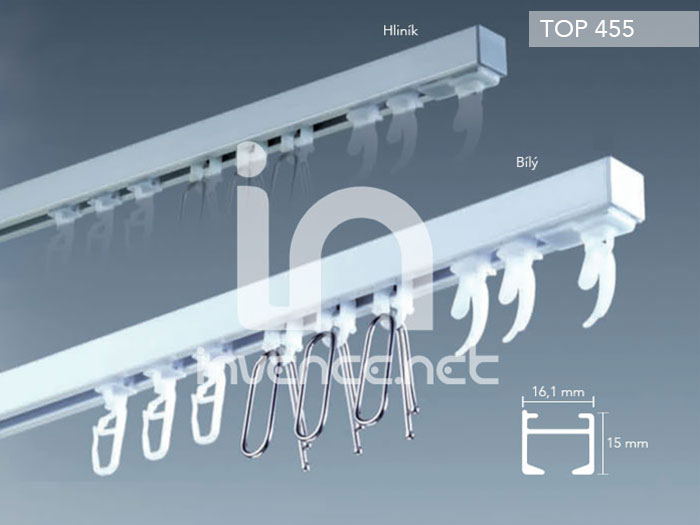 Aluminium square profile TOP 455 
Colours: white, natural anodized aluminum or surcharge any color according to RAL color chart
Possibility of bending (the minimum bending radius 15 cm)
Maximum weight of 8 kg drapery
Ceiling mounting
Single and double groove design
Price includes standard drivers: 420 Kč / m (excluding VAT)
Delivery date: 5-10 working days
SPEED 460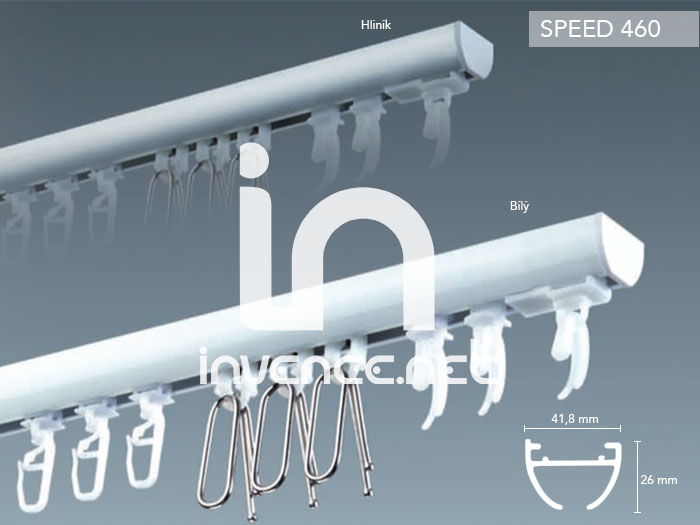 Aluminum half-round profile
Colours: white, natural anodized aluminum or surcharge any color according to RAL color chart
Possibility of bending (the minimum bending radius 15 cm)
Maximum weight of 11 kg drapery
Ceiling mounting
Single and double groove design
Price includes standard drivers: 747 Kč / m (excluding VAT)
Delivery date: 5-10 working days
BASIC 417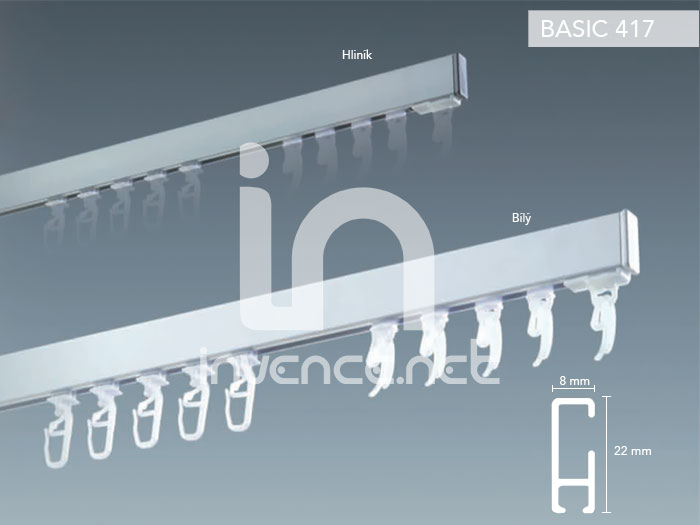 highly stable aluminum profile - the possibility of a self-supporting suspension of up to 100 cm (showers)
Colours: white, natural anodized aluminum or surcharge any color according to RAL color chart
Possibility of bending (the minimum bending radius 10 cm)
Maximum weight of 5 kg drapery
Ceiling mounting
Single and double groove design
Price includes standard drivers: 583 Kč / m (excluding VAT)
Delivery date: 5-10 working days
UNO 412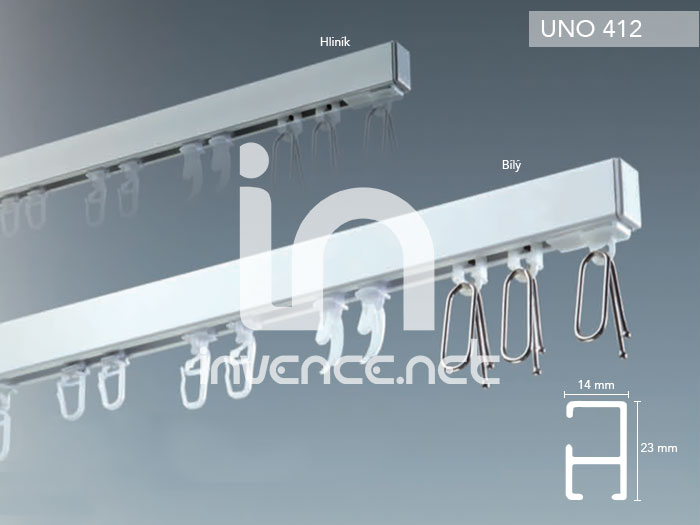 Highly stable aluminum profile suitable for heavy curtains
Colours: white, natural anodized aluminum or surcharge any color according to RAL color chart
Possibility of bending (the minimum bending radius 10 cm)
Maximum weight of 11 kg drapery
Ceiling mounting
Single and double groove design
Price includes standard drivers: 630 Kč / m (excluding VAT)
Delivery date: 5-10 working days
NANO 712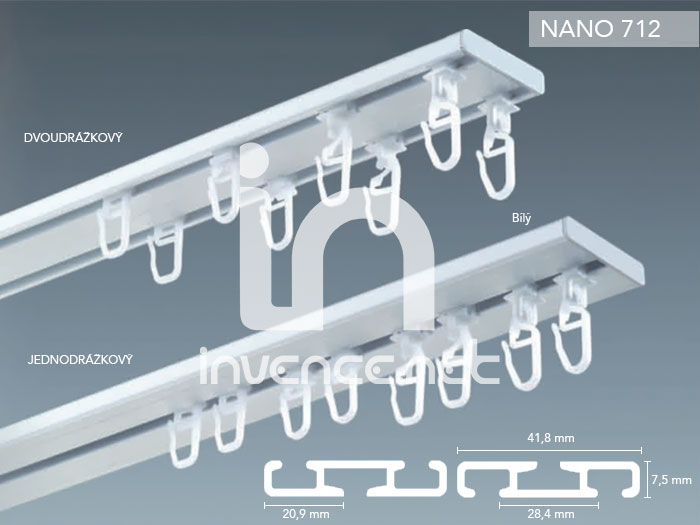 Extremely flat aluminum profile - 7.5 mm
Colours: white
One profile can be used as a single or two groove
Profile Nano 712 can not be bent
For light and medium-heavy drapes - max 10 kg
Ceiling mounting
Price includes standard drivers: 560 Kč / m (excluding VAT)
Delivery date: 5-10 working days
METRO 861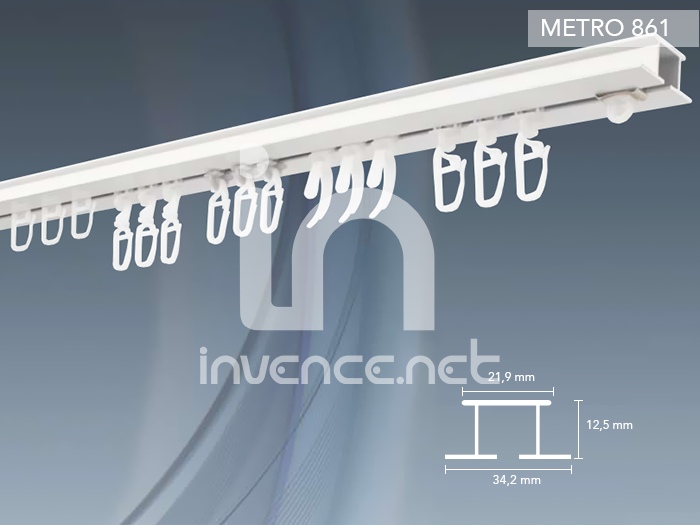 Single groove design
Colours: white or color surcharge any RAL color chart
Without bending capabilities
For heavy drapes - max 15 kg
Possibility of corner version
Fitting into a plaster ceiling
Price includes standard drivers: 490 Kč / m (excluding VAT)
Delivery time: 5-10 working days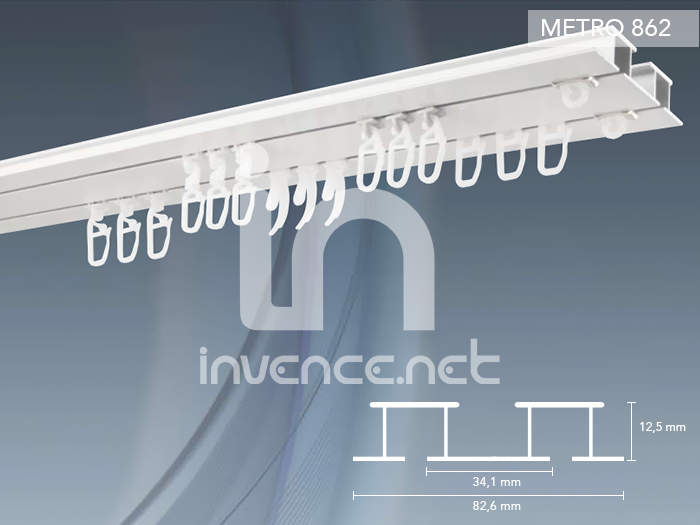 METRO 862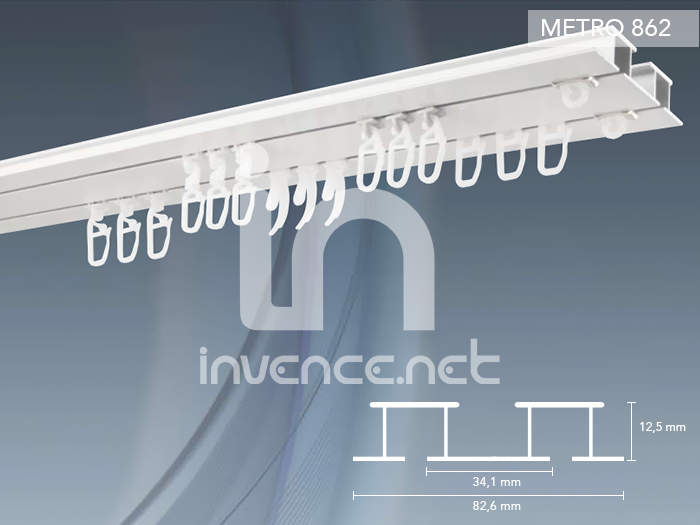 Double groove design
Colours: white or color surcharge any RAL color chart
Without bending capabilities
For heavy drapes - max 15 kg
Possibility of corner version
Fitting into a plaster ceiling
Price includes standard drivers: 887 Kč / m (excluding VAT)
Delivery time: 5-10 working days
DISKRET 421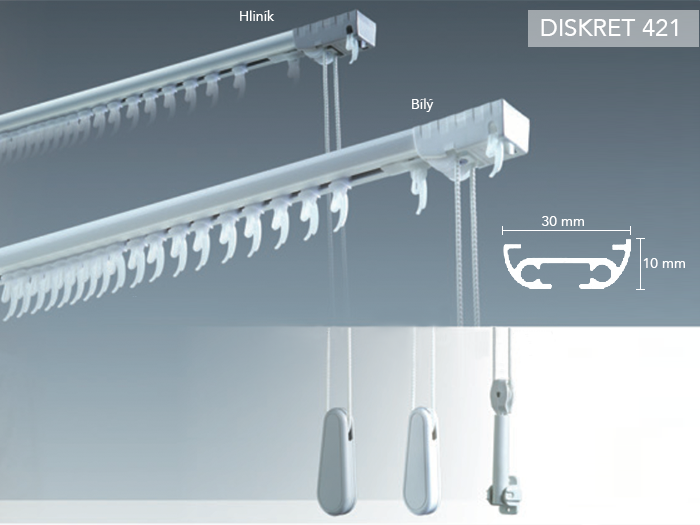 curtain rail controlled with string
Colours: white, natural anodized or any RAL color 
The rail can be bent
Maximum weight  - 11 kg 
Wall or ceiling mounting
Price includes standard riders: 1610 Kč / m (without VAT)
Delivery time: 5-10 working days
DISKRET 422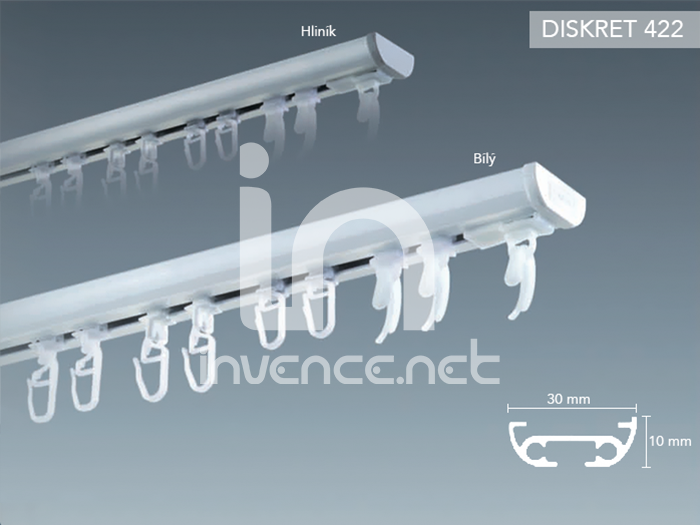 Flat and very stable curtain and curtain profile
Colours: white, natural elox or any color according to RAL color chart
Ceiling mounting
For light and medium-heavy drapes - max 11 kg
Single - or double groove execution
Price includes standard drivers: 793 Kč / m (without VAT)
Delivery time: 5-10 working days
SZENE 202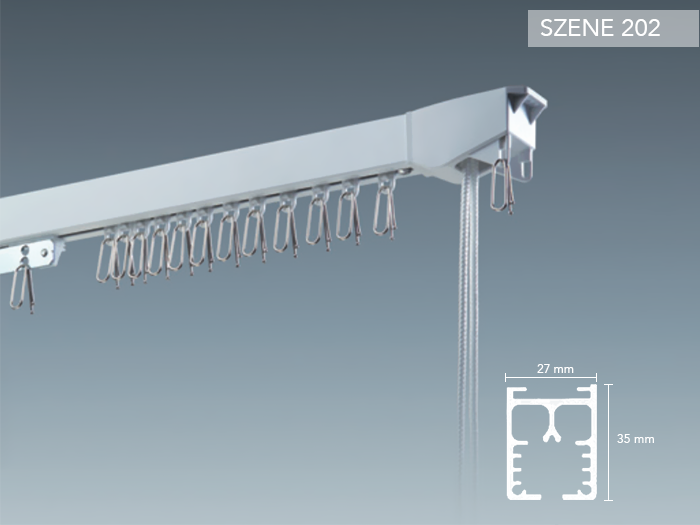 Professional corded wire rail for heavy curtains
Maximum profile length up to 13 m
Possibility of bending
Colour: White
For extremely heavy drapes - up to 55 kg
Ceiling mounting
Suitable for theaters, lecture rooms, ...
Price includes standard riders: 2,489 Kč / m (excluding VAT)
Delivery time: 5-10 working days
Motorized curtain rails EMOTION 601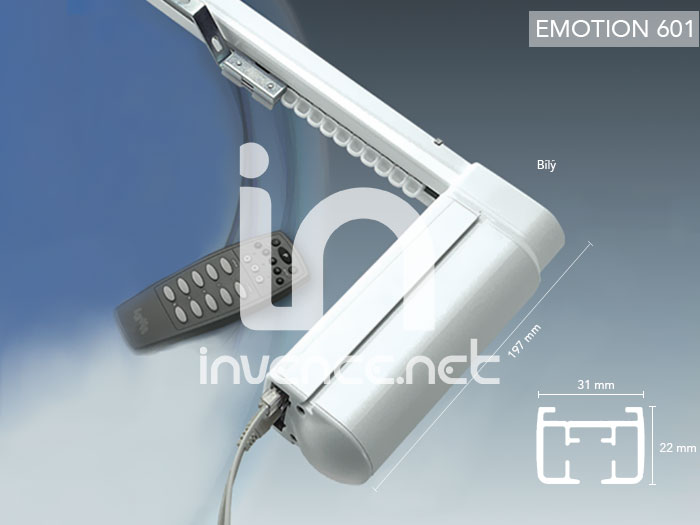 Professional motor rails for curtains and curtain
Maximum length of profile - 20 m
possibility of bending
Colours: White
Wall or ceiling mounting
Drive: Engine 24V
Controls: push button or remote control (15 channels)
For extremely heavy curtains (maximum load per rider is 1.5 kg)
Price includes standard riders: on request
Delivery date: 5-10 working days
Motorized drapery and curtain rail DRIVE 701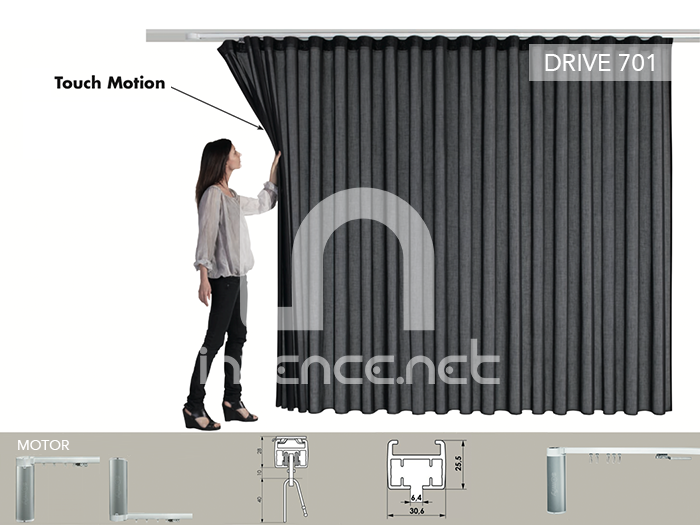 Top quality motor travel for curtains
Drive: Engine 230 V SOMFY
Control: remote control or by pressing SOMFY
SPECIAL OPERATIONS: pulling the curtain gives the engine in motion
Possibility of bending
Colours: white, natural anodized aluminum or any color surcharge
Ceiling mounting
Price includes standard riders: on request
Delivery date: 5-10 working days
Hooks and riders into curtain rails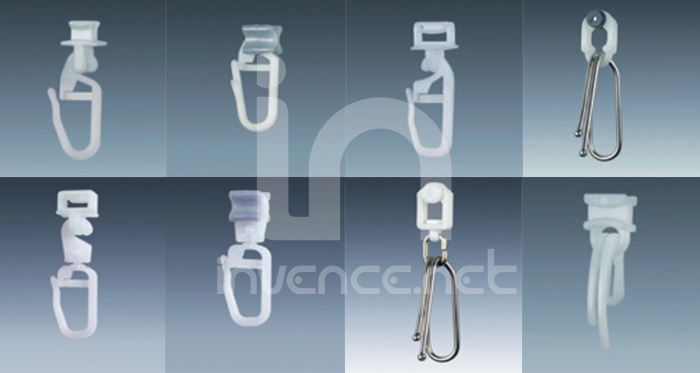 Advantages and opportunities curtain and curtain rails:
curtain and curtain wire can be seen in our showroom
curtain rails can be bent to the arc of any curve after the template
concealed version
more groove design
possibility of delivery of the finished product according to your specifications on delivery (custom installation)
quality and functionality of the best producers
possibility of motor control
more colors
More in czech language: https://www.invence.net/zaclonove-vodice.html