Japan panel curtains completely meet the demands of modern solutions for your interior. Using materials from our extensive collection for panel curtains can become a prominent feature of your interior. The system of sliding panels is recommended for shading large glazed areas. With panel curtains you can also easily divide space, hide the kitchenette, a place to sleep or study. Panel curtains (also used for closet, for example, instead of a door) are tailor-made according to your specifications or to the measurement of our technician. The price of panel curtains depends on the dimensions (overall width and height of the shaded area), the number of panels used substances (possible combinations of several materials) and the type of control (manual, motor).
Panel curtains consist of aluminum rails and upper shielding material.
Aluminum rails of panel curtains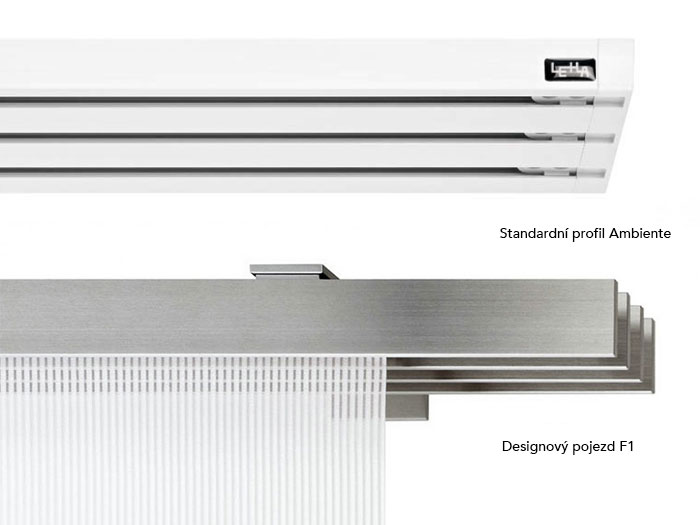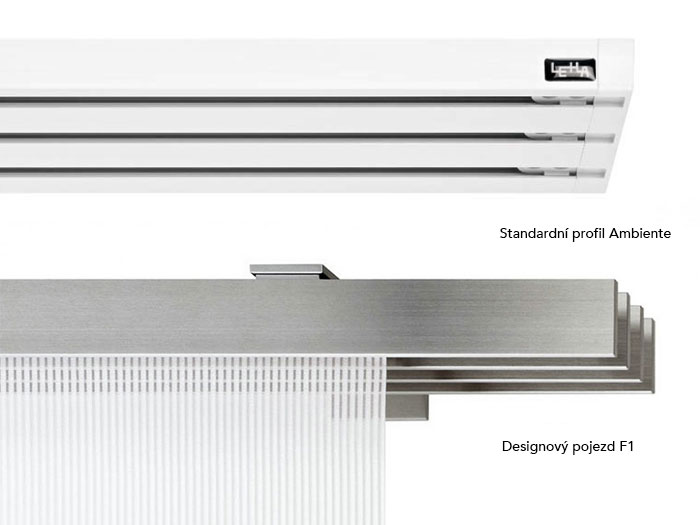 Aluminum rails of panel curtains are made of aluminum, extruded in natural silver color or painted white. It is produced in variants 1-5 the grooves, into which can be installed any number of fabric panels. There are moving carts build in the rail with individual fabric panels. The rail is produced in a maximum length of 6.5 meters but special connectors allow the individual running profiles easily compose to themselves and without any problems reach a length of several tens of meters. We exclusively use the rails made by company LEHA - the best quality products to our market.
Design rail F1, CLOU, FOX and LOFT for panel curtains
As an alternative we can offer design panel carrier F1 for the panel curtains. This is an exclusive alternative to traditional type of rail. F1 rail is the result of a long process, which was supposed to find a truly innovative system without compromise - powerful and elegant. Panel carrier F1 has won numerous international design awards.
Another possibility to organize carriers in the rail allows system CLOU and FOX. These products may have each panel substances their groove, but may hang obliquely - see picture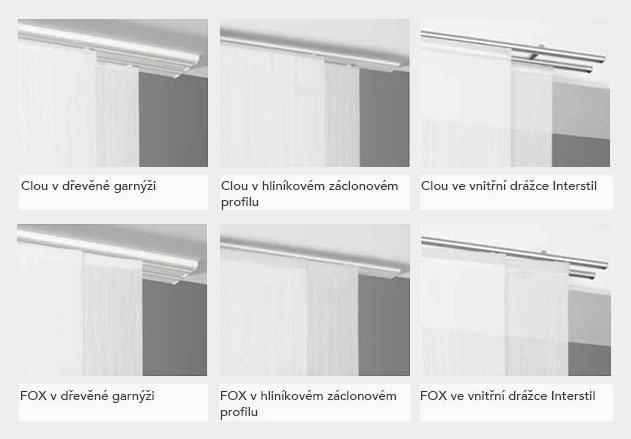 Another option is a design LOFT rail. Made of noble material (matte nickel) the rail is used with a round rod in diameters of 16, 20 and 25 mm. This combination ensures a high aesthetic value in the visible, usually mounted on the front wall.



Panel curtains's shielding material
The fabric material for panel curtains are tailor made up to the width to 140 and height to 350 cm. The fabric is firmly attached at the top of each panel using Velcro strips to the aluminum carrier. The panels are fitted at the bottom of the panels with tunnels with weights or aluminum strips that act as weights and ensure proper shutdown of the substance. You can choose from many different combinations of light-permeable materials, plain color, the pattern, until quite extravagant. We are willing to lend catalogues with all substance swatches or you can see the substance swatches here.
Panel curtains Japanese-style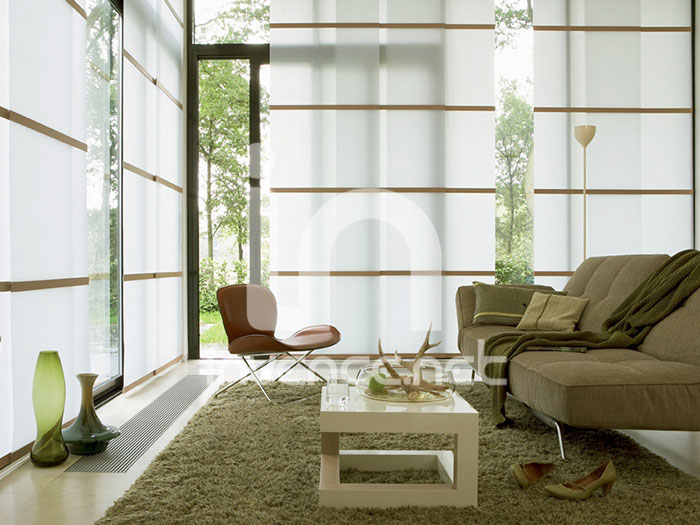 Inspiration for modern panel curtains was typical Japanese architectural element Shoji - the walls, windows, sliding doors and screens of rice paper in wooden frames. The original atmosphere, comfort and functionality in a simple package evokes our panel curtains with Japanese washi paper or cheaper polyester materials imitating rice paper. If you divide the panel with horizontal wooden slats width of 50 mm (in various colors) into 3-5 segments, you can feel the magic of living of Far East.
Advantages and opportunities of Japanese panel curtains:
panel curtains are custom made

we provide professional measurement and assembling of products

panel curtains can be seen in our showroom

We offer more than 500 different kinds of substances

5-year warranty

installed on the ceiling or front wall

We use the rails of the highest quality on the market

possibility of delivery of the finished product according to your specifications (custom installation)

substances swatch can be seen here

possibility of motor drive and remote control

maximum Japanese panel size 130 x 350 cm

panels of different materials can be combined

the number of grooves in the rail is 1-5

the rail is made of aluminum or varnished in white

F1 rail - polished aluminum or stainless steel

CLOU systems and FOX for oblique hanging provides multiple panels into the two slots

maximum width of Japanese panel curtains is limitless
More in czech language: Kvalitní japonské posuvné stěny